Dear participants and visitors of the exhibition, take into account additional opportunities to get acquainted with offers of TIRES & RUBBER exhibitors: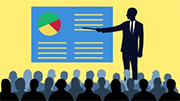 I. Presentation zone
Technical seminars, company presentations and master-classes of exhibitors
The opportunity to have a presentation free of charge in front of the audience of professional visitors is given to TIRES & RUBBER exhibitors.
Venue: conference hall (exposition zone);
Facilities: screen, projector, chairs, table. Technical support in the conference hall.
To take part you need to send a request by the 3d of April 2019 to Shevchenko@expocentr.ru or tires@expocentr.ru including presentation's topic, speaker's name and surname, his/her position. We will provide you with the variants of time for the presentation.
Time limit – till 30 minutes.
II. Stand presentations
The schedule of companies/products/services presentations at the booths/stands of exhibitors
Dear participant, In order to be posted in the schedule of stand presentations on the TIRES & RUBBER website, please, fill in the application.
Visitors of the exhibition will be informed about the schedule of the presentations. It will attract more targeted audience to your booth.
Important information:
Presentation should be held by the employee of the exhibitor;
Time limit – 20 minutes.
Example
The information placement about the company on the website TIRES & RUBBER:
| Time | Company | Stand/Booth | Topic |
| --- | --- | --- | --- |
| 11.00-11.20 | LLC «ŔBŃ» | 2E37 | Equipment Presentation … |