The Tires & Rubber'2012 Exhibition opens at Expocentre Fairgrounds
The official opening ceremony of the 15th International Specialized Exhibition for Rubber Goods, Tires, Their Production, Raw Materials and Equipment Tires & Rubber'2012 was held April 17th at Expocentre Fairgrounds. The exhibition carries the logo of RUEF – the Russian Union of Exhibitions and Fairs.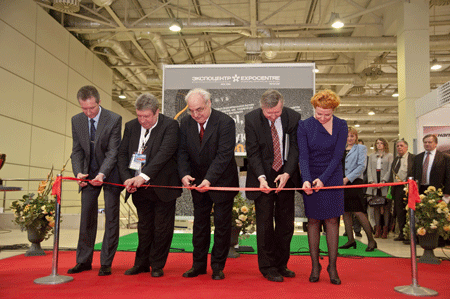 Vladimir Khomyakov, the Deputy Chairman of the State Duma Committee for Industrial Policy of the Federation Council of the Russian Federation, congratulated the participants on the opening of the exhibition and wished creative meetings and beneficial contracts. Vladimir Khomyakov also noted that high technologies and innovative solutions, displayed at the exhibition, make it competitive and actual all over the world.
On behalf of the Chamber of Commerce and Industry of the Russian Federation Igor Korotin, the Director of the Department for Exhibition, Trade Fair and Convention Activities of the Chamber of Commerce and Industry of the Russian Federation wished the participants, organizers and guests every success. He emphasized that the production of synthetic rubber and wide range of rubber products is one of the priority areas of the chemical complex of Russia. Igor Korotin also noted, "the exhibition properly meets its 15th anniversary as it develops, expands by means of new participants, and progresses!"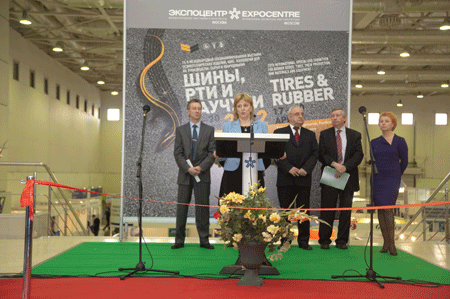 Anna Brineva, the Deputy Chairman of Department of Science, Industrial Policy and Entrepreneurship of Moscow City, addressed the participants and visitors on behalf of the Moscow City Government. She stressed that the exhibition Tires & Rubber promotes the development of the industry and innovative technologies. The annual increase of the number of participants of the exhibition testifies to it.
Vice-President of the Russian Chemists Union Vasily Semenov stated in his speech that "constantly increasing quality requirements of such unique product as a tire presupposed the technology improvement in related industries: rubber resin, chemical fibers, fillers, dyes, chemical reagents".
Tatiana Tur, the Head of Chemical and Technological Exhibitions Division, congratulated the attendees on behalf of Expocentre and wished every success, good progress and prosperity.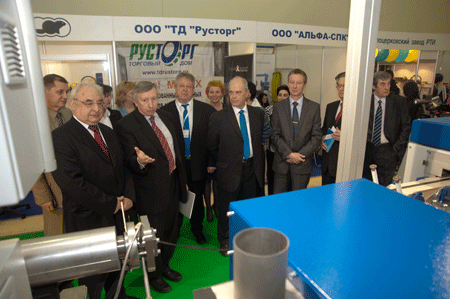 The Tires & Rubber'2012 exhibition features wide range of products and services of all main spheres of the industry. More than 170 companies from 17 countries present their expositions. The exhibition includes the 2nd Conference Rubber, Technical Rubber Goods, Tires: Traditions and Innovations and the Best Rubbers, Rubber Materials and Products'2012 Contest.
---